30 November 2016
A new touch of light for Arnaldo Pomodoro's Armoury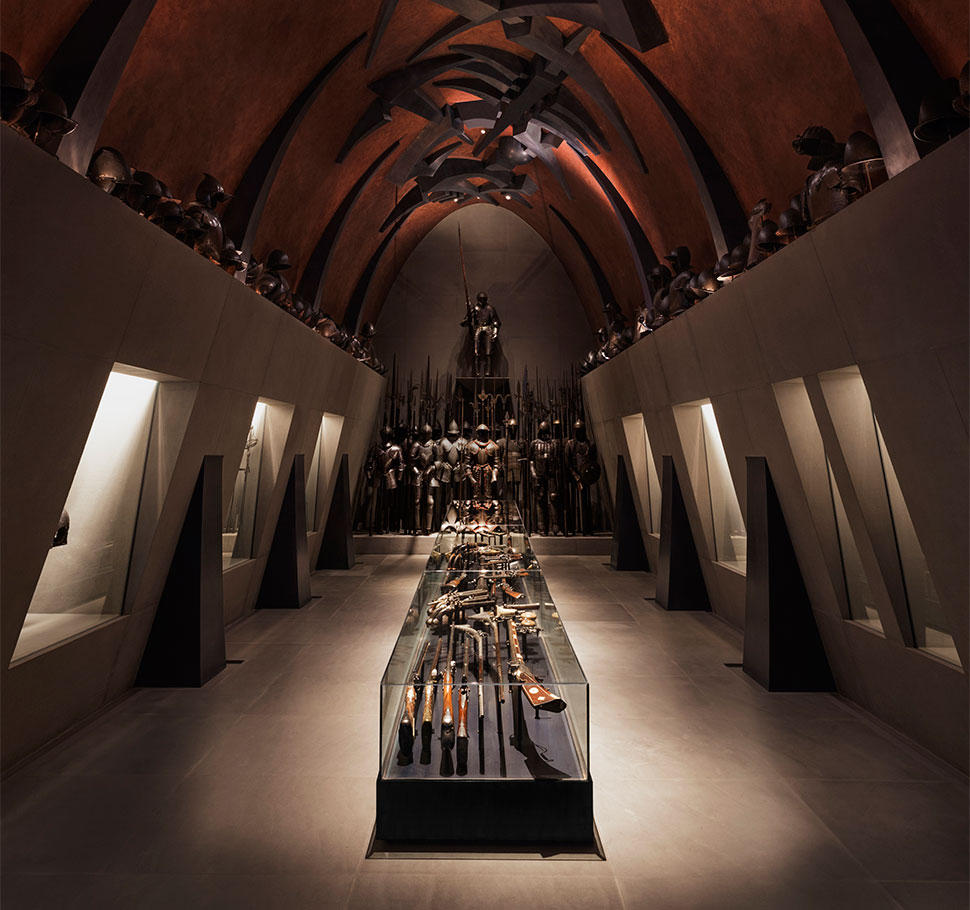 In 2000, the Poldi Pezzoli Museum in Milan reopened to the public the Armoury, which still hosts one of the most important collections of European weapons and armor. The great contemporary sculptor Arnaldo Pomodoro, who this year celebrates 90 years, curated the rearrangement of the room and designed the set-up. From November 30, 2016 until February 5, 2017, Milan celebrates the great Master with a major retrospective staged in many locations and a thematic path that involves the whole city. The Armoury, an innovative musicological intervention made by Pomodoro, is a key point of the exhibition and on the occasion has recently been further enhanced thanks to a new lighting project. The project was curated by the studio Ferrara Palladino Lightscape based in Milan and signed by the architect Cinzia Ferrara.
The global lighting makeover of the room and display cases, made with Futuro Luce LED lighting systems, was designed to emphasize to the prestigious weapons and armor, to bring out every detail of the beautiful and fascinating decorations and to enhance the impressive artwork of the Master Pomodoro.
For the illumination of the so-called "Scheggia", the glazed central display, PL16 spotlights have been used, set along the peculiar Pomodoro's sculpture, which is on the ceiling of the room and represents an integral part of the collection. Thanks to their minimal design and their technical features, the PL16 spotlights integrate themselves perfectly with the artwork of the Master, creating spectacular and sophisticated light and shadow effects, which solemnly mark the visitor experience inside the room.
The longitudinal parts, on which pieces of armor and trophies are set, are illuminated by Alfa profiles, in light aluminum, specifically designed for applications in which installation space constraints are fundamental.
Along the sides of the hall, carved out in sandstone niches, 12 display windows contain the most precious objects, illuminated by Delta profiles: particularly suitable for hidden installation in walls and floors, allow to gather the light into a narrower beam. This makes possible to light up the surfaces as wall washer, or to supply more flow where necessary, creating up/down light lines and choreographic effects.
In the display windows of this room there are no captions alongside the historical exhibits. A precise design choice made to leave large space on the direct and personal relationship between the visitor and the charm of these true works of art: in this particular context, the light plays an important role representing undoubtedly the most important and charming tool able to touch the visitor in front of a silent army.